Shakeology Chocolate-Dipped Strawberries
Strawberries and Chocolate. What could be better? You can enjoy this treat of shakeology chocolate-dipped strawberries for any special occasion; anniversary, birthday, or special holidays, like Valentines.  This healthy treat is the perfect way to finish off a romantic dinner with your special someone. But these aren't your average chocolate dipped strawberries.  These hand dipped strawberries are made with love and Shakeology!  Instead of using traditional baking chocolate, I used Shakeology mixed with virgin coconut oil to create a chocolaty treat that will keep you healthy and on track with your clean eating. Plus save you tons of money, since 1 dozen of these delicious treats will run you around $16 and up in your local grocery store. However, I can't take credit for coming up with this idea. I found this idea from Beachbody and tried it out for myself. 
What is Shakeology? Shakeology is a super-food dense nutritional meal replacement shake that is full of 70+ ingredients from around the world. It's packed with globally sourced superfood ingredients such as proteins, fiber, antioxidants, adaptogen herbs, pre and probiotics, and digestive enzymes. In short it is AMAZING. It is my go-to meal everyday to give me energy, keep me regular and on track with eating clean!
If you enjoy this recipe, please make sure to JOIN my monthly NEWSLETTER CLUB for recipes, motivational tips and other mom encouragement delivered directly to your inbox for monthly LOVE and SUPPORT! And PLEASE share this recipe with your family and friends through social media and email because SHARING is CARING!
How to Make Chocolate-Dipped Strawberries
1.Choose a basket of strawberries from the grocery store or to make these chocolate-dipped strawberries special, seek out super sweet, juicy berries from your local farmers market.
2. Help the chocolate adhere by starting with dry strawberries. After washing the berries, pat them dry and set them on a clean dish towel to dry completely.
3. Chilling the strawberries before dipping them in chocolate will help the chocolate stick and begin to harden right away.
4. Mix things up by adding a little traditional white chocolate drizzle on top.
5. Store strawberries in an air-tight container in the refrigerator.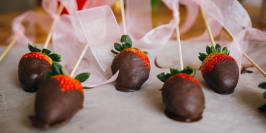 Beachbody RECIPE
Serves: 12 servings, 1 strawberry each
Ingredients
Parchment paper
½ scoop Chocolate Shakeology
6 Tbsp. melted extra-virgin organic coconut oil, divided use
12 large stemmed strawberries, washed, completely dried
½ scoop Strawberry (or Vanilla) Shakeology OR use Ghirardelli baking chocolate-60%Cacao chips or White Chocolate baking bar
Instructions
Cover large baking sheet with parchment paper. Set aside.
Combine Chocolate Shakeology and 3 Tbsp. oil in a small bowl; mix until smooth.
Grip each strawberry by the leaf and dip ¾ of it into Chocolate Shakeology mixture, swirling to cover. (Chocolate Shakeology mixture can also be applied to strawberries with a knife.) Place on prepared baking sheet. Repeat with remaining strawberries.
Combine Strawberry Shakeology and remaining 3 Tbsp. oil in a small bowl; mix until smooth.
Place Strawberry Shakeology mixture in a small re-sealable plastic bag. Squeeze out most of the air; seal top. Cut off one tiny corner of plastic bag. (or sub for traditional baking white chocolate bar or cacao chips)
Pipe Strawberry Shakeology or traditional baking chocolate mixture in horizontal lines over dipped strawberries.
Refrigerate for 1 hour, or until coating is set.
CHECK OUT THIS HOW-TO VIDEO from a FB LIVE!